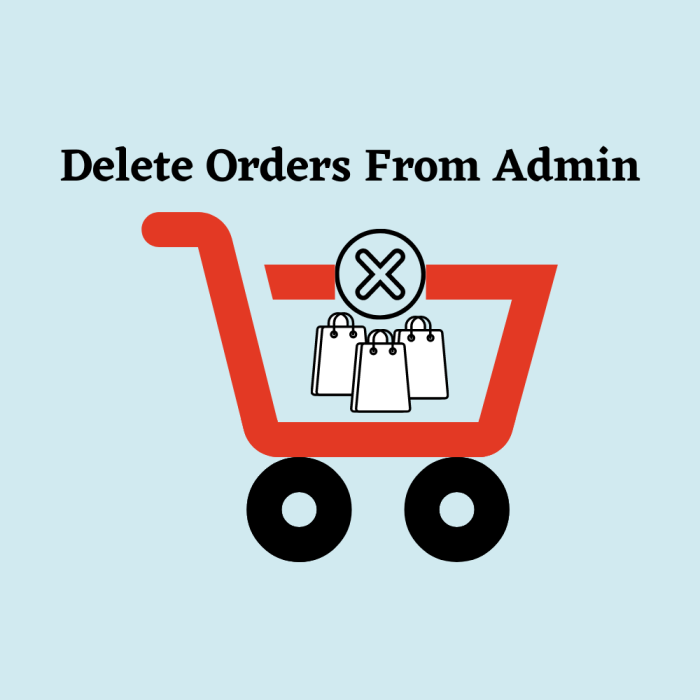 Improve your Order Data Management System By Deleting Unwanted Data Through Webiators Magento 2 delete orders Extension
Challenges:
While running a Magento 2 store online, you may face challenges like Managing your customer details, invoices, inventories, and order status and details. Managing all these details can be very difficult if you are trying to do that manually. Also, there is no such provision of deleting these unwanted details on default Magento. 
Solutions:
By installing the Magento 2 delete order from admin extension by Webiators, it is easy for the store owner to manage the orders. This also reduces the risk of confusion that a person may have while taking care of a large amount of order data. This extension enables the store owner to delete unrequired data including invoices, shipments, credit memos, and other order details.
Benefits: 
This Magento 2 delete order from database extension helps in easy order management. Also, it can help in saving precious time and effort. Magento 2 delete order from admin extension by Webiators is 100% open-source and it can be customized on the basis of what the store owner needs. Benefits of getting a delete button for the store admin of an e-commerce website: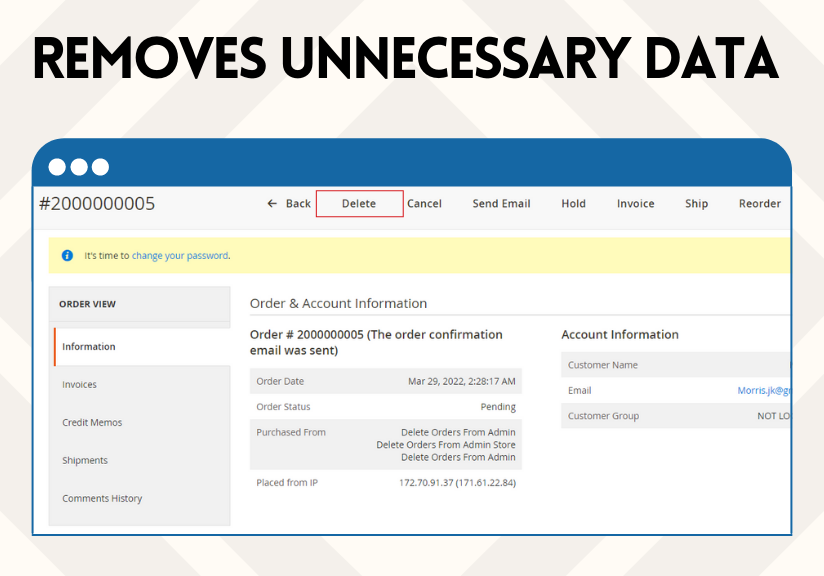 Removes Unnecessary Data 
This extension helps in erasing unrequired data from your Magento store. It enables the admin to delete unwanted data quickly and easily.Also, the accuracy of your store's analytics can be improved by erasing old orders. 
Removing outdated orders is another way to give customers a better experience. Customers are more likely to be pleased with your store if they can easily identify relevant orders, made possible by deleting irrelevant and obsolete orders.
Improved Store Speed 
Taking many orders simultaneously can slow down your business, especially if you're on a shared hosting plan. It is because each order demands your server's resources, and an influx of orders might eventually slow down your online shop's performance. 
Clearing out outdated purchases may make room on the server, which helps speed up your online shop. You can receive a more accurate picture of your store and its linked data performance to make more informed decisions.
Effective In Saving Time
With this extension, you can manually choose and delete multiple data including invoices, shipments, credit memos altogether. It helps in saving time and effort. Along with the orders, the associated shipments, invoices, and credit memos, are also deleted.
For legal reasons, you may be compelled to delete past orders once a specific time has passed permanently. Maintaining compliance with these rules and avoiding legal trouble can be accomplished through routine order deletion.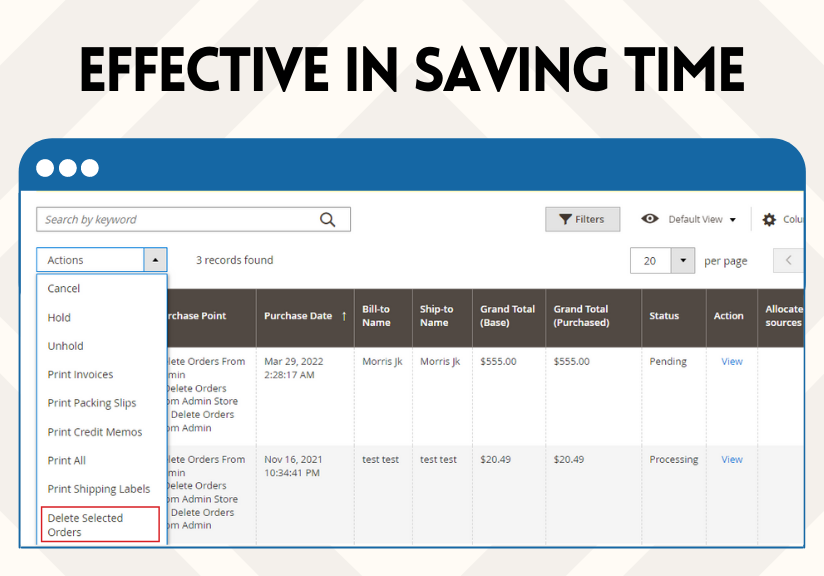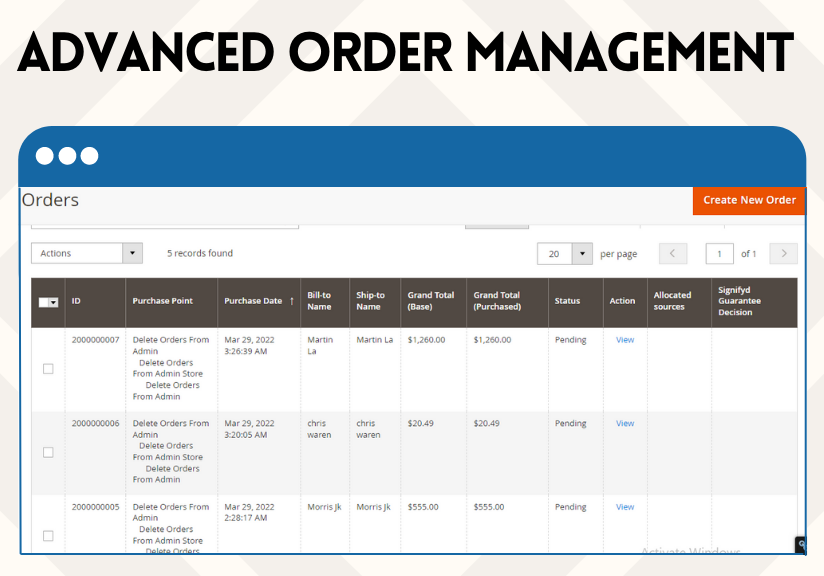 Advanced Order Management
It reduces the complexity of administrative duties. The delete order from admin Magento 2 extension makes it easy for admins to pick and remove unwanted orders with a few mouse clicks. Then, the specified orders and all associated files will be destroyed simultaneously.
Hence, there is no need for further deletions. This extension enables a better order management system by deleting unrequired order-related data from the store. This reduces the chance of confusion with so much data available to the admin.
Why Is A Delete Order From Admin Functionality Needed On A Magneto Store?
The necessity of routinely removing old orders from an online shop database arises from several factors. 
Customer's personal information may be at risk if you keep past orders online for a short time. It is especially important if customers' payment information or personal details are stored on your website. By routinely removing obsolete orders, you can be assured that no bad actors will be able to obtain access to sensitive information about your business.


For privacy and security, better shop performance, greater analytics, a better customer experience, and compliance, it is crucial to delete outdated and useless orders from your online store routinely. The easiest way to keep your store functioning smoothly and give customers the greatest possible experience is to clear up your order data frequently.


It's useful for store managers to generate temporary orders for testing and then cancel them once they've served their purpose. In this scenario, they require auxiliary resources to cancel these trial orders efficiently. Magento delete orders extension by Webiators helps store admins make this deleting task hassle-free. 



Creating a clean and well-organized administration panel is also needed for a Magento 2 store owner. Keeping the store's backend nice and organized is important, which requires removing outdated or unused orders. Magento 2's Delete Order From Admin feature makes it simple and quick for admins to change the order grid. 
Why Choose Webiators' Delete Orders From Admin Extension?
Extensive Support from a Team of Experts.

100% Open-source Platform Allows Customization Based on Requirements. 

Quick and Easy to Install. 

Easy to Use
More Information

| | |
| --- | --- |
| Graphql_compatibilty | No |
Version 1.0.7
5 May 2023
New - Added compatibility with Magento 2.4.6 with php 8.1 and 8.2
Version 1.0.6
9 December 2022
New - Added compatibility with Magento 2.4.5
Version 1.0.5
13 June 2022
New - Added compatibility with Magento 2.4.4
Version 1.0.4
3 January 2022
New - Added compatibility with language translation
Fix - Minor bug fixes and code clean
Version 1.0.3
3 November 2021
New - Added compatibility with Magento 2.4.3
Fix - Minor bug fixes
Version 1.0.2
6 March 2021
New - Added compatibility with Magento 2.4.2
Version 1.0.1
1 November 2020
New - Added compatibility with Magento 2.4
What does the Delete Orders from Admin extension do?
The extension allows you to efficiently remove unwanted orders directly from your Magento 2 admin panel, ensuring a clutter-free order history.
Is it safe to delete orders using this extension?
Yes, the Delete Orders from Admin extension is designed to ensure data integrity, and it won't affect your inventory or sales reports.
Can I select multiple orders for deletion at once?
Absolutely! With this extension, you can conveniently select and delete multiple orders in a single action, saving time and effort.
Will deleting orders impact customer accounts or payment records?
No, customer accounts and payment records remain unaffected when you delete orders using this extension. It only removes order data.
Is the Delete Orders from Admin extension compatible with the latest Magento version?
Yes, the extension is developed to be fully compatible with the latest Magento 2 version, ensuring smooth and seamless functionality.
We found other products you might like!