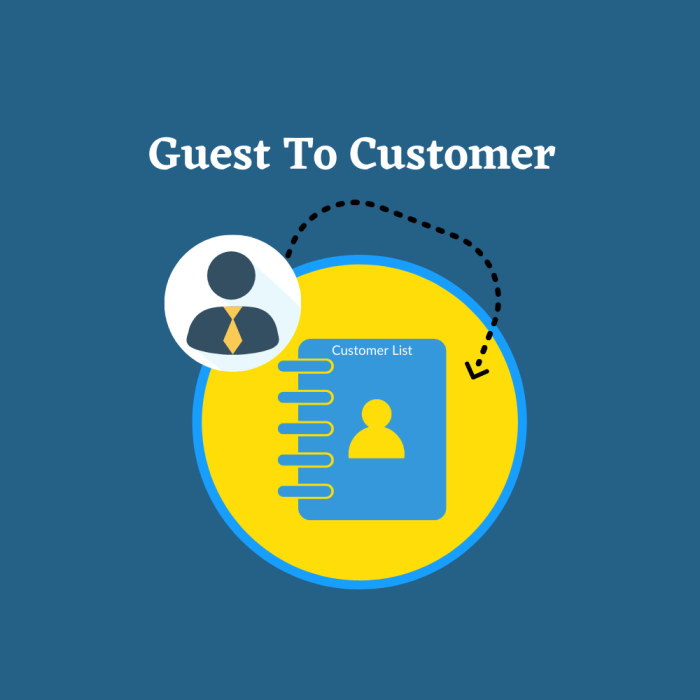 Want to Register The Guest Shopper of your Store into a Registered Customer? Webiators Guest to Customer Extension Is the Right Choice For You!
Challenges:
Many customers abandon their carts while shopping because of a lengthy checkout and registration process. People shop online because they want to shop quickly and save time. But a lengthy registration process can hinder the same. It can eventually let you lose a potential customer and revenue.
Solution: 
With Webiators guest-to-customer extension, you can let a guest customer shop from your eStore without any registration and you can still get all their details and get them registered in a single click. Thereafter, you can share the login credentials of your customers through email. By providing customers with an easy and smooth shopping experience, you can ensure maximum customer retention. When you choose Guest to Customer extension you get:
Benefits: 
You get a lot of benefits when you choose to install this extension on your Magento 2 store. You get a chance to convert many of your target customers to be your registered customers and it is just the tip of the iceberg. Other benefits include: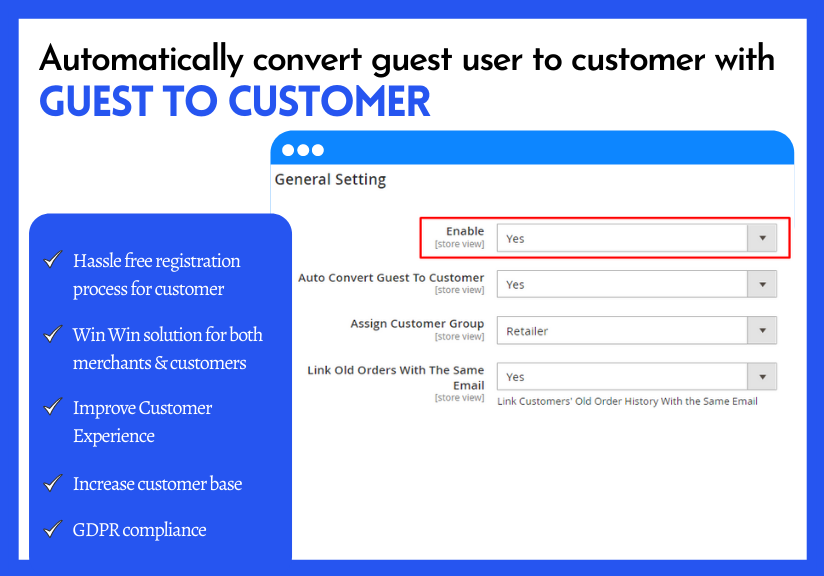 Convert Guest Users to Customers After Checkout
Webiators Guest to Customer extension for Magento 2 enables store owners to convert guest users into customers just after they place an order. This helps you to increase your customer database without forcing them to register for checkout.
This results in:
Boost conversion by almost 65%

No compromise with customer data in terms of user experience
Manage Guest User List: Automatic or Manual
The extension provides you full control to manage guest users manually or set up an automatic mechanism.
If you choose an automatic mechanism, it will convert your guest buyers to customers in your assigned customer group.

If you go with the manual ideal, it will create a different database name

"Manage Guest"

. From there you can convert the guest in bulk or one by one as per your business requirement.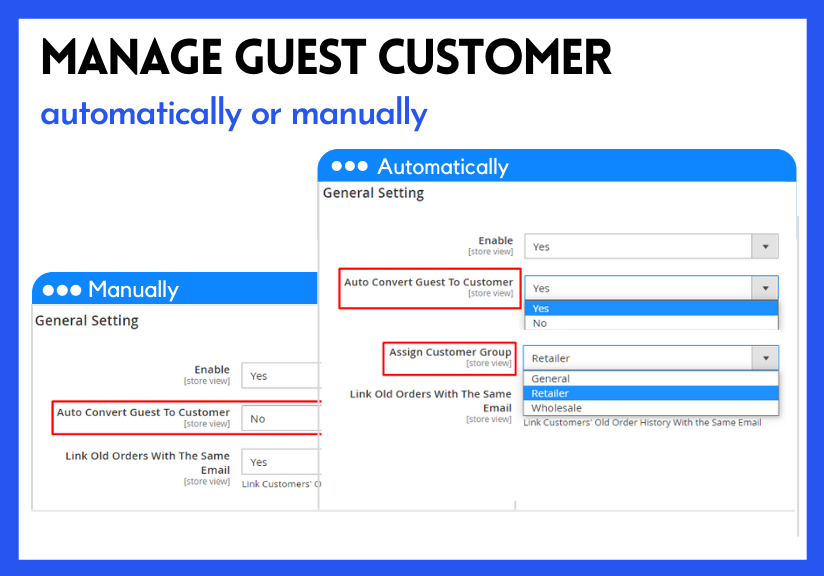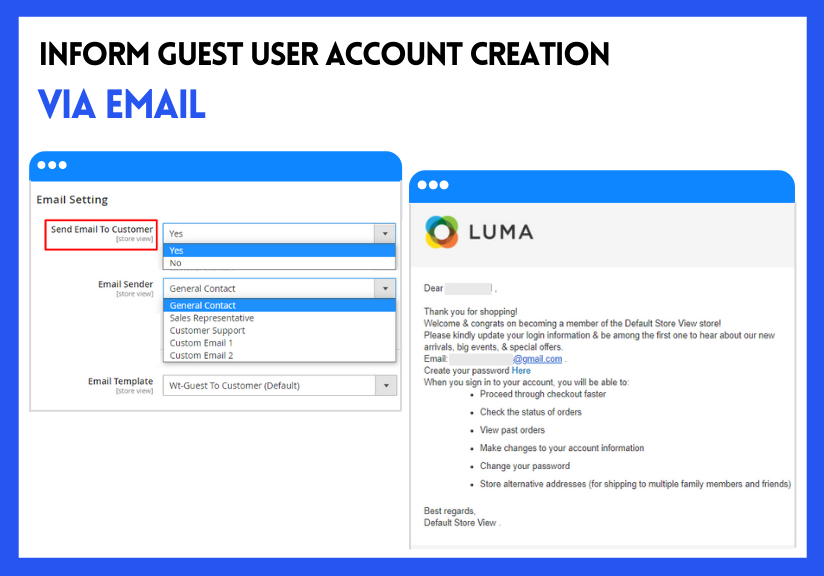 Notify Customers via Email:
When the guest user is converted to a registered customer, an email notification will be automatically sent to the customer with a set password link. 
Our default email template is suitable for all kinds of businesses, but vendors can customize it as per their needs.
Import Previous Guests To Customers
What if you want the data of previous guest buyers or the data before installing the extension. We made that easy for you.
You can import all the previous guest user data with just a single click. All you need is to select a date range from when you want to import the data and there you go.
Now you can access the data in the "Manage Guest" list.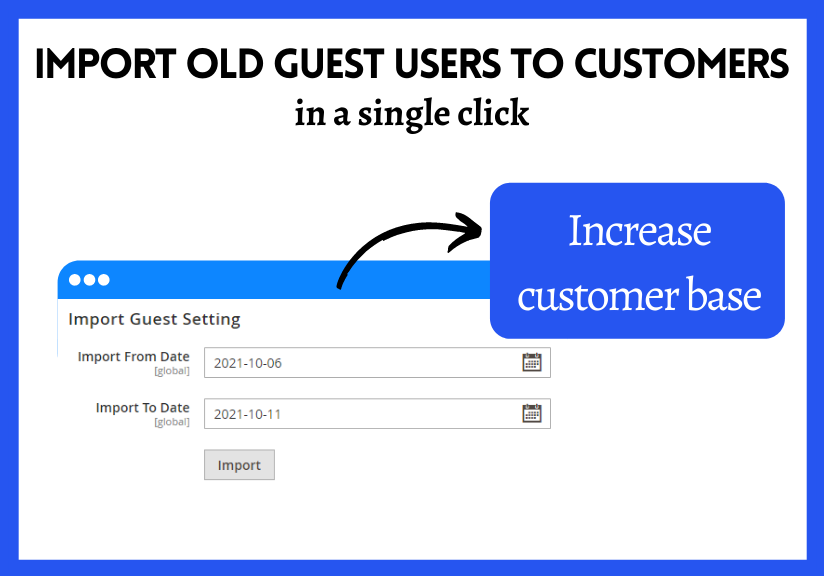 Why Choose Webiators Magento 2 Convert Guest to Customer Extension?
Reduce the hassle of your customers by ensuring automatic registration when they make a purchase.

A highly skillful and dedicated team. 

A perfect solution for the customers and the store owners. 

This extension offers compatibility with GDPR.

Helps in reducing the risk of cart abandonment.
More Information

| | |
| --- | --- |
| Graphql_compatibilty | No |
Version 1.0.2
2 May 2023
New - Added compatibility with Magento 2.4.6
Fix - Minor bug fixes and code clean
Compatible with graphql
Version 1.0.1
7 April 2022
New - Compatible with prefixed database table
Fix - Minor bug fixes and code clean
What is the purpose of the Magento 2 Guest to Customer Extension by Webiators?
Convert guest users into registered customers to enhance sales and improve customer experience.
How does the Magento 2 Guest to Customer Extension benefit my business?
It helps increase sales by seamlessly transforming guest users into loyal customers.
Why should I consider using the Magento 2 Guest to Customer Extension?
By converting guest users to customers, you can build a customer database and foster long-term relationships.
What impact does the Magento 2 Guest to Customer Extension have on user experience?
It enhances user experience by streamlining the registration process and offering personalized features for registered customers.
Can the Magento 2 Guest to Customer Extension help me improve customer retention?
Yes, by converting guests to customers, you can establish a loyal customer base that is more likely to return for future purchases.
We found other products you might like!