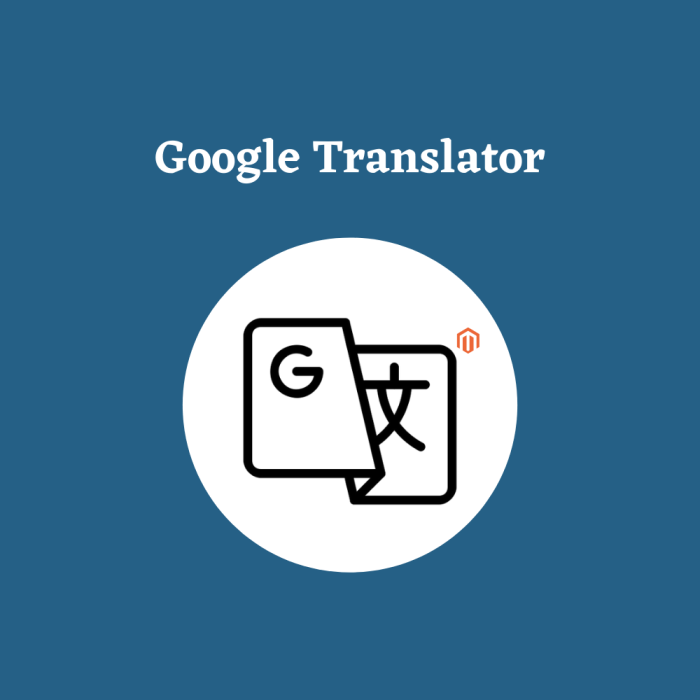 Help Your Customers to Instantly Translate Store Language to their Native Language with Magento 2 Google Translate Extension by Webiators.
Challenge:
While running a Magento store, there may be times when your customers need additional language support to understand more about your product portfolio. If you are targeting your Magento store globally to attract customers from across the globe, you need to make sure that you provide Magento 2 multilanguage support. Without the support of multiple language translations of your eStore content, you may end up losing a lot of revenue from prospective customers across the world.
Solution:
By adding multi-language support to your Magento store, you can be assured that you are not losing out on your precious revenue from customers across the Globe. Magento 2 language translation extension by Webiators' enables your website customers to translate the store content into their native language with just a single click. This Google language translator for Magento 2 extension can be a reliable option for quick conversion of words and phrases for your customers.
Benefits:
A multiple language translator can help in grabbing the attention of customers across the globe. By providing support for multiple languages on your website you can easily enable your customers to quickly change the language to their native language in just a single click.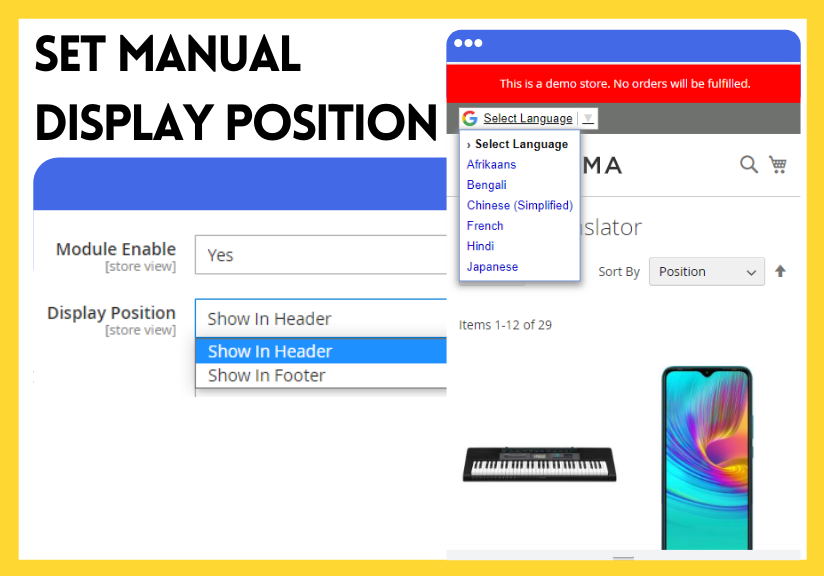 Manual Display Position:
You know your customer may be confused with the language if they are not familiar, so it is always better to set the display position where it is easy to be seen.
You can have a manual display position set to get your customers' attention. Webiators has developed Magento 2 Google Translate Extension to facilitate incorporating Google's language translation resources on the user screen.
Support for Multiple Chosen Language:
This extension offers support for multiple languages. Your customers can choose and translate the whole store data into their native language and carry on their shopping experience.
With the help of the Magento 2 multilanguage feature, you may expand your customer base internationally. It's a lot of work to set up a business that supports many languages, but you can save time and make it easier for your customers to shop from anywhere in the world.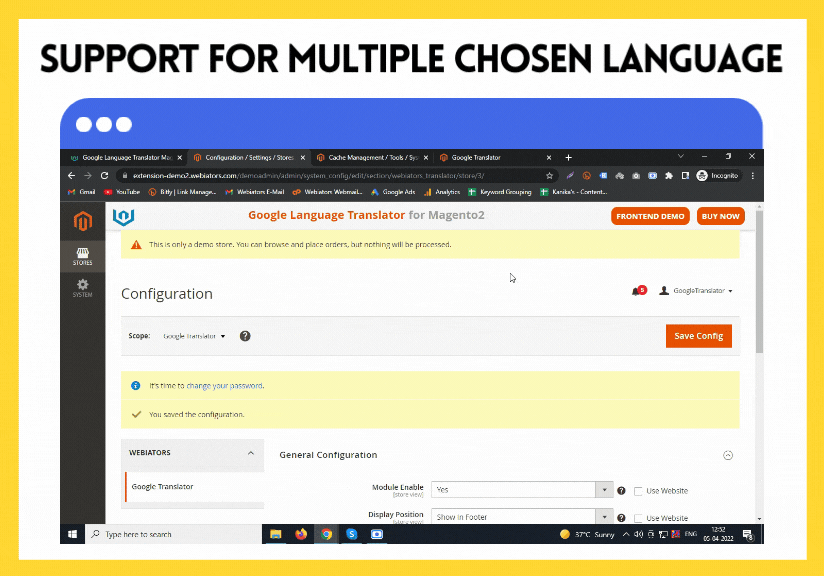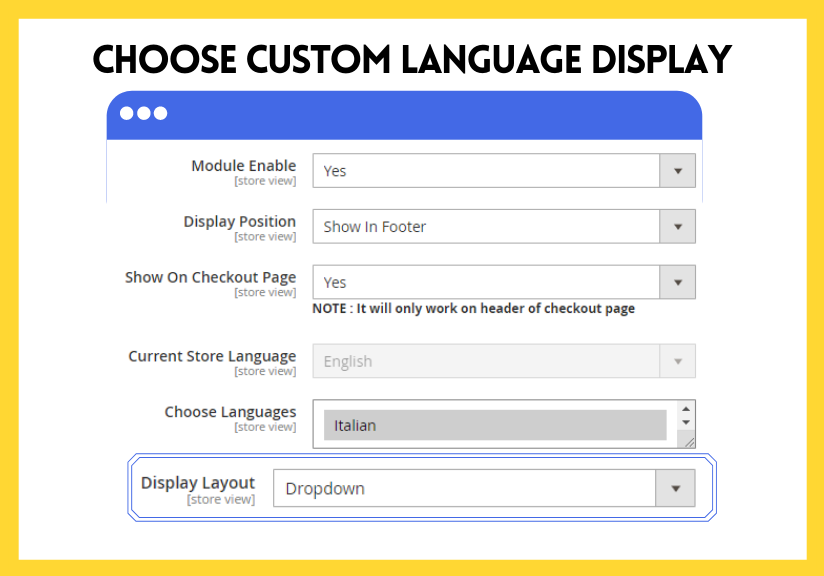 Language Display Layout:
Whether it's a product page, CMS page, contact page, or checkout page, the Magento 2 translation module can handle it. The front translation bar's format is customizable by the admin.


With Magento 2 translation extension by Webiators, Store admin can customize the language display layout in the way they like. They can set the display layout to horizontal or vertical, depending on however they like
Why Choose Google Language Translator Extension by Webiators?
Proficient team of experts for support.

For added functionality on your Magento store.

Easy and quick option to translate language on your Magento store.

Improve credibility on your eStore.
What Is The Need For Having The Multilingual Option On Your Website? 
Several factors make it imperative that a website support multiple languages in today's globalized society. It aims to meet the varying linguistic requirements of its users, making the service more welcoming and accessible. Key reasons why a multilingual option availed of using a Magento 2 multilanguage extension is required are as follows:


Catering to a multilingual audience allows businesses and organizations to contact people who don't speak their native language, thanks to the global nature of the internet. Websites can interact with more people and potentially expand their user and customer base if they offer material in several languages.


Websites that offer material in the user's preferred language tend to have a higher user engagement rate. Offering content, goods, and services in multiple languages improves the satisfaction of your site's users. It helps communicate, understand, and build rapport by eliminating language obstacles.


An advantage in a global market is a website that can be read in multiple languages. It shows that you care about your international audience and may entice them to switch from a competition that doesn't offer information in their language. Businesses can expand their reach and gain an edge by targeting customers with a specific language.


A website that supports many languages makes localizing material for different languages and cultures possible. In addition to translation, localization considers regional languages, currencies, date formats, and cultural allusions. User participation and satisfaction are both boosted by this degree of personalization.



Multilingual websites aid search engine optimization. Websites that offer material in many languages have a better chance of being seen in search engine results for keywords and phrases specific to each language. More people may visit the site due to the increased organic traffic and higher ranks.
What Advantages Does the Magento 2 Google Translate Plugin Offer?
The Magento 2 Translation Extension allows localizing your store into various tongues. One of the most effective ways to expand your Magento 2 customer base internationally is to include a translation module. It makes increasing retail sales as easy as opening a new location abroad. Furthermore, having the content shown in the preferred language would enhance the buying experience for your clients. 
It will also provide them an advantage over the competition and make them more likely to buy from you. Customers will feel more at ease and satisfied with their purchases if made in their native tongue. Approximately 75% of all online shoppers prefer to do business with companies whose websites are available in their native language. As a result, your store's website needs to be able to communicate with its users in their language. 
To provide a wonderful experience and increase sales, you should make your E-commerce store multilingual and interact with clients in their local language. Your company's reach and success might be enhanced with the help of a multilingual eCommerce website. Moreover, a user-friendly E-commerce Mobile App that supports multiple languages is a great way to expand your customer base. 
More Information

| | |
| --- | --- |
| Graphql_compatibilty | No |
Version 1.0.6
15 May 2023
New - Added compatibility with Magento 2.4.6
New - Added compatibility with Graphql
Version 1.0.5
2 January 2023
New - Added compatibility with Magento 2.4.5
New - Added compatibility for selection default store language
Fix - Minor bug fixes and code clean
Version 1.0.4
20 November 2022
New - Added compatibility with Magento 2.4.4
Fix - Fixed issue with CSP module
Version 1.0.3
9 January 2022
New - Added compatibility with language translation
Fix - Minor bug fixes and code clean
Version 1.0.2
25 November 2021
New - Added new field for current store language
Fix - Minor bug fixes
Version 1.0.1
29 September 2021
New - Added compatibility with Magento 2.4.3
Fix - Added plugin assets in content security policy (CSP) whitelist
Fix - Minor bug fixes
What is Google Language Translator for Magento 2?
Google Language Translator is a powerful Magento 2 extension that allows seamless translation of your online store into multiple languages, enhancing global reach and customer experience.
How does the extension work?
The extension integrates with Google's translation API, automatically translating website content into preferred languages. Users can switch between languages effortlessly, promoting multilingual shopping.
Is Google Language Translator SEO-friendly?
Yes, the extension generates translated content with proper hreflang tags, ensuring search engines identify and index different language versions, positively impacting SEO efforts.
Can I customize translations for accuracy?
Absolutely! Google Language Translator offers manual translation options, empowering you to fine-tune translations for specific product descriptions or key pages, maintaining language precision.
Is the extension compatible with all Magento 2 versions?
Webiators' Google Language Translator is designed to support all recent Magento 2 versions, providing smooth integration and exceptional performance across different store setups.
We found other products you might like!