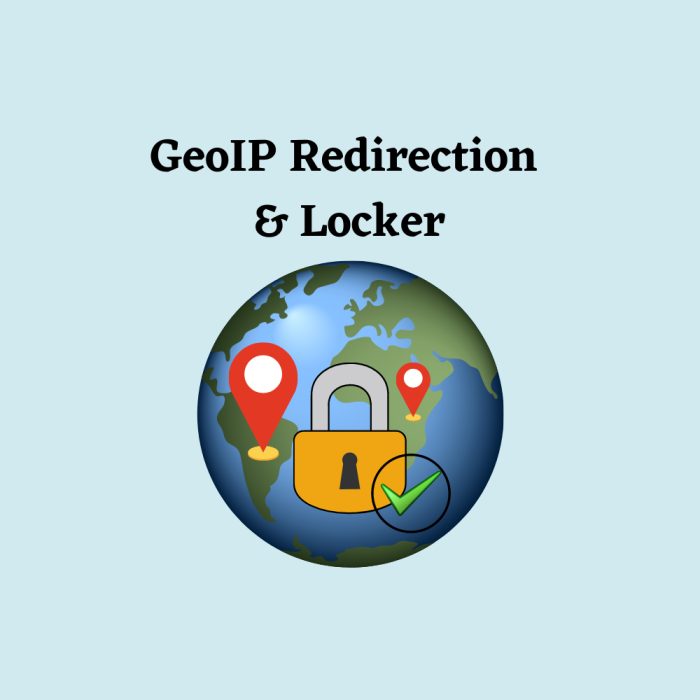 Provide Better Experience to Website Visitors from Other Countries By GeoIP Redirection and Locker Extension
Challenge:
Sometimes it is difficult to provide a personalized experience to your Magento store visitors. Certainly, there is a limitation to specifically focusing on each of your store visitors. But, you need to provide a good customer experience to your store visitor. Also, it is needed to provide region specific facilities to your website visitors. Therefore, you need a solution for these problems.
Solution:
As it is difficult to manually manage the customer experience of every visitor to your website. You can integrate a GeoIP Redirection & Locker extension by Webiators. With Magento 2 GeoIP extension, you can automatically identify the visitors' location and redirect them to the necessary page. This can help massively in providing the best customer experience to your website visitors.
Benefits:
GeoIP Magento 2 extension can help a lot in improving the overall customer experience on your website. With auto location identification, a user can browse in their native language. This can help you in more revenue generation as the website visitor will have a lesser need to manually choose the language that they understand. Some other benefits may include: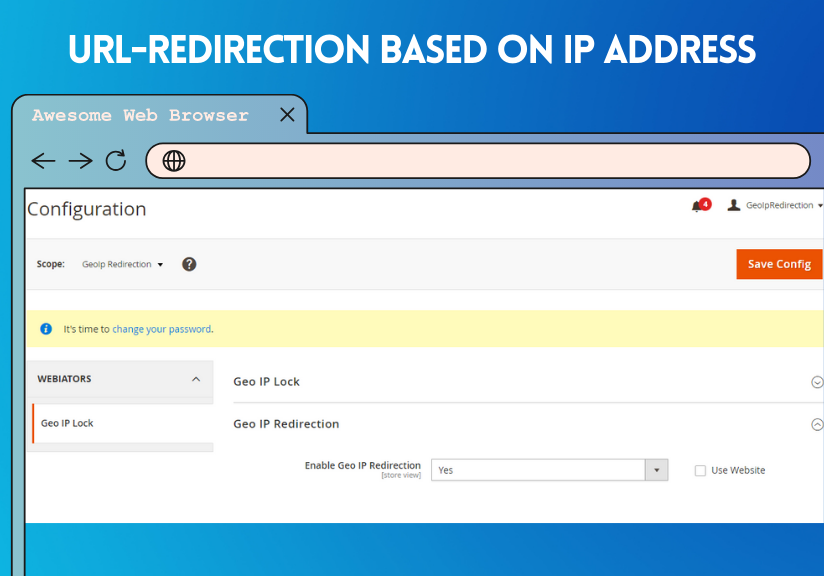 Redirection Based on Region:
When the IP address of a visitor is identified, the users are redirected to a region-specific website in a specific language. With the help of this extension, it is easier for a website visitor to understand better about the product, price, and even shipping.
Displaying a business in the user's native language with regionally relevant product descriptions can greatly enhance the shopping experience. This GeoIP location Magento 2 extension automatically redirects customers to the most relevant storefront.
Restrict Store Use from Specific Region:
This GeoIP redirection & locker magento extension can also deny access to visitors from specific regions. If you blacklist some regions, the visitors from those regions will not be able to access your store.
Depending on your preferences, visitors from specific IP addresses can be banned, redirected to a different page, or shown a humorous message. For instance, expressing your admiration (or sarcasm) for your rivals is a great chance.
Blocking by IP Address:
You can block the store access from certain specified IP addresses as well using Magento 2 GeoIP. If you want to block specific IP addresses from regions that can still have access to your store, you can do that.
Search engine and user agent traffic should be ignored. There is no justification to reroute traffic from robots.txt and user agents. The most used search engines, including Google, Bing, Yahoo, Yandex, etc., are automatically blocked by the add-on.
Why Choose Webiators' GeoIP Redirection & Locker Extension?
We ensure better store performance.

All our extensions are compatible with each other.


Support from a dedicated team of professionals.
What Improvements Can Your Customers Experience Using A GeoIP Redirection & Locker Addon?
Every retailer craves a clientele that spans the globe. Because of the Internet, reaching customers worldwide is simpler than ever. However, as our clientele becomes increasingly global, issues with clarity and accommodating everyone's information needs occur.
What is the equivalent price in my local currency? How about international shipping? How about alternative translations? Customers frequently ask these and similar questions. Customers can occasionally find the information they need, but other times they can't. 
If you have any doubts, it's best to close the browser and look for a different vendor. The Geo Redirect addon was developed with this problem in mind. You can modify the appearance of each part individually and modify the number of required fields by copying or erasing them.
It may be required to reroute a user to a new page temporarily. Select "the first time redirect only" from the drop-down menu to do this. Apply rules based on a visitor's IP address using GeoIP in your Magento 2 store. This component is a versatile tool for handling many kinds of work.
Customers will find online purchasing considerably more pleasant and convenient if they are immediately redirected to localized storefronts using their native language and currency. Customers can then devote their energy to browsing for and purchasing their preferred products.
You can prevent redirection from happening for specific URLs, such as the store's homepage or its frequently asked questions page. By making store websites more easily navigable and accessible, Magento 2 extension for GeoIP redirection & locker contributes significantly to raising customer happiness. 
Why Is A Location-Based Redirection Required?
Language Localization: One of the most common uses of location redirection is to lead users to material written in their native language. Websites can improve the user experience and boost engagement by automatically displaying content in the user's preferred language based on their geographic data.

Regional Relevance: Websites frequently offer content and services tailored to particular geographic areas. An online store might send customers to a localized site version that only features items, pricing, and discounts in their area. It improves the overall user experience by showing relevant material.

Legal Compliances: Privacy laws, age limits, and content limitations might vary greatly from one country or region to another. By automatically rerouting users based on their geographic location, websites may ensure they comply with these regulations.

Ad Targeting:

Using a

Magento extension for GeoIP redirection & locker,

users can be shown relevant advertising based on where they are in the world via location-based redirection. Advertisers may display ads just to people in certain cities or areas to make their ads more relevant and effective.
More Information

| | |
| --- | --- |
| Graphql_compatibilty | No |
Version 1.0.7
6 May 2023
New - Added compatibility with Magento 2.4.6
New - Compatible with graphql
Version 1.0.6
4 March 2023
New - Added compatibility with Magento 2.4.5
Version 1.0.5
9 December 2023
New - Added compatibility with Magento 2.4.4
Version 1.0.4
2 January 2022
New - Added compatibility with language translation
Fix - Minor bug fixes and code clean
Version 1.0.3
1 October 2021
New - Added compatibility with Magento 2.4.3
Version 1.0.2
17 April 2021
New - Added compatibility with Magento 2.4.2
Version 1.0.1
6 December 2020
New - Added compatibility with Magento 2.4
Fix - Minor bug fixes
What is GeoIP Redirection Locker for Magento 2?
Discover how GeoIP Redirection Locker enhances your Magento 2 store by automatically redirecting visitors based on their geographical location.
How does GeoIP Redirection Locker benefit my e-commerce site?
Learn how this extension improves user experience, boosts conversion rates, and helps you reach the right audience with targeted content.
Is GeoIP Redirection Locker easy to configure and use?
Explore the user-friendly setup process and find out how you can quickly implement effective geo-targeting strategies without technical hassles.
Does GeoIP Redirection Locker support mobile devices?
Find out how this extension ensures seamless redirections on both desktop and mobile devices, optimizing user experience across all platforms.
Can I create custom rules for GeoIP redirection?
Understand how you can tailor redirection rules to suit your business needs, such as language preferences or regional promotions, with this flexible extension.
We found other products you might like!