Improve Conversion and Ensure Better Promotion on Your Magento Store with Webiators Promotion Bar Extension.
Challenge:
For any store owner, a successful promotion strategy is one that achieves all the promotional objectives for the brand. One of the biggest challenges for any brand while performing a promotional strategy is to drive more traffic and improve the conversion rate. 
Solution:
Though, there are many ways that you can promote your brand to your target customers. But reaching out directly to them when you know they are interested beats all the others. Magento notification bar by Webiators ensures that you promote all your sales and deals in such an attractive way that your potential customers choose to make a sale with you.
Benefits:
A promotional bar creates a win-win situation for both the store owner and the customers. A store owner gets a chance to promote their deals to its target customers and has a chance to convert them. On the other hand, for customers, a promotion bar acts as a direct information channel which they can receive the maximum benefit of the hottest deals and flash sales from. Benefits of using a Promotion Bar Extension: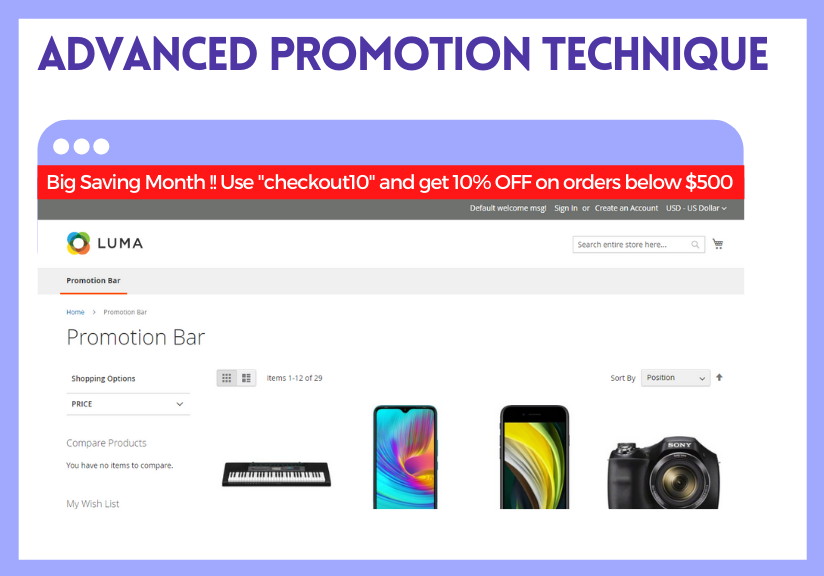 Advanced Promotion Technique:
Promotion bars offer a highly-effective promotional strategy. It enables the store owner to directly promote the deals to target customers through eye-catchy promotional bars.
Improved Conversion:
Direct promotion to the interested buyers can help in improving conversion. Buyers are looking for the best deals and these promotion bars are promoting the same.
Customization of Promotion Bar:
Store owners can customize the Magento 2 promo bar however they like. They can add the titles and catchy content in a way that persuades a potential customer to make a purchase. You can also change background and text colors.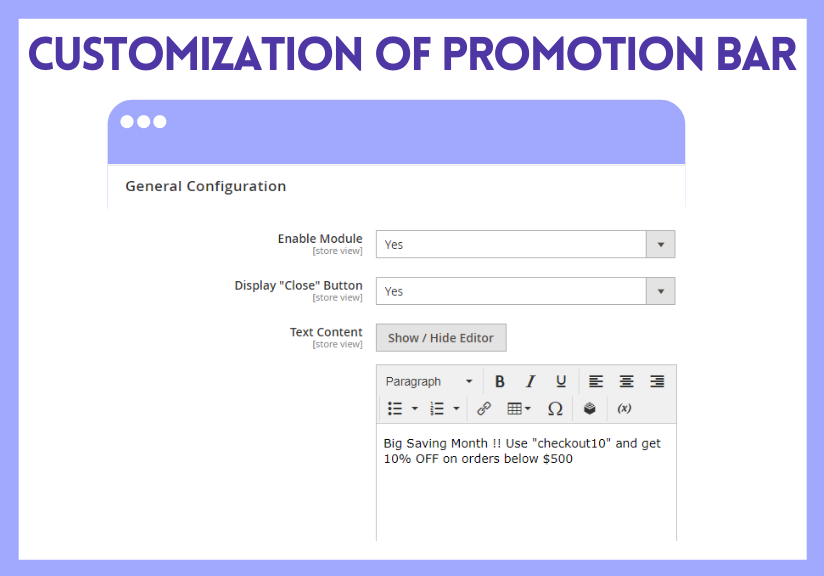 Why Choose Webiators Promotion Bar Extension
To Create Attractive Promotion Bars.

Efficient and Skillful Team of Developers.

Quick Update and Easy to Use.

All the Modules offer Good Compatibility with Others.
Version 1.0.4
10 April 2023
New - Added compatibility with Magento 2.4.6
New- Added compatibility with GraphQL
Fix - Minor bug fixes and code clean
Version 1.0.3
21 November 2022
New - Added compatibility with Magento 2.4.5
Fix - Minor bug fixes and code clean
Version 1.0.2
30 June 2022
New - Added compatibility with Magento 2.4.4
Fix - Minor bug fixes and code clean
Version 1.0.1
7 January 2022
New - Added compatibility with language translation
Fix - Minor bug fixes and code clean
What Is Magento?
Magento is one of the best online e-commerce platforms built on open source technology to launch your online store. It provides online merchants with a flexible shopping cart system, as well as control over the look, content, and functionality of their online store. Magento also offers effective marketing, high-performance SEO and store management tools.
Why Choose Magento Platform?
Magento is highly scalable because it can support all kinds of businesses from very small to giant enterprises. It is the big reason to choose the Magento platform.
What Does a Magento Developer Do?
Magento developers Play an Important Role in improving, building, and supporting the Magento eCommerce store. Magento developers can be divided into two main categories first is Front end developer who determines the structure and design of web pages for all devices. And Second is the backend developer who is responsible for server-side web application logic and integration of the work front-end web developers do.
Will I get free support and updates?
Yes, once you buy any extension(s) by Webiators, you'll get free lifetime updates for the product(s). Each purchased extension includes 3 months of free support by default.
Can I request a free trial?
Webiators doesn't provide any trials of Magento extensions. But we have three months of free support and a 60-day money-back guarantee. There's one exception: Webiators extensions are provided for testing or demo purposes to our official Platinum Partners as a part of the "access to Webiators extensions for testing purposes with Composer" benefit. Instead of a free trial, most of our Magento extensions have demos where you can see how our modules work. If you buy an extension and it doesn't suit you in any way, you can request a refund with no risks on your side. Also, we'll be happy to help you with any custom development for your business needs.
How can I receive a discount?
According to the rules of Webiators's Reward Program, you get $15 back to your store credit per every $100 spent. You can spend it to buy other extensions from our catalog, order installation service or extend support. These Points are valid for 60 days from the purchase date. You can check your balance in your personal account in the Rewards & Credit tab. One more option for you is to subscribe to our newsletter to receive news about all special promotions we can provide you with.
We found other products you might like!