Allow Customers to Cancel Their Order on Their Own, Without Contacting Support
Challenges:
An aware customer always checks the cancellation and refund policy while shopping online. If he struggles to cancel the order, he must lose his trust in you. There can be several reasons to cancel an order like the customer can place the order by mistake or has changed his mind. All these issues can annoy your customer, and he may switch to another website. This customer behaviour will also affect you as it can accumulate pending orders, waste time processing the order, increase the return rate, and cause loss of shipping charges. But, order cancellation functionality is not available in default Magento.
Solution: 
Our Cancel Order Magento 2 Extension will help your customers cancel the order within a specified time period in case they have changed their mind regarding the purchase of the product, dislike the product, or have purchased it by mistake. And even if the customer cancels the order by mistake, he can contact the store admin to get his order uncancelled and regain access to his previous purchase. This extension enables the store admin to provide the timely option for cancelling orders within 24 or 48 hours of placing them. Hence, Magento 2 cancel order extension enables brands to build customer loyalty and win their trust. 
Benefits Of Choosing Magento 2 Cancel Order Extension By Webiators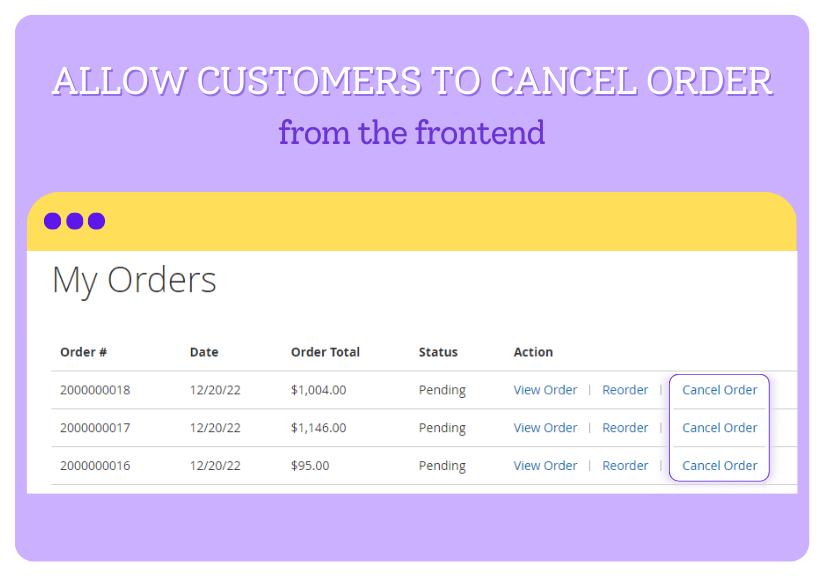 Cancel Orders From The Frontend
Magento 2 Cancel Order Extension allows your customers to cancel orders from the front end. They have an option on the top menu bar to cancel the order within a stipulated time frame. The customer can also see cancellation details & status on the front end.
When customers can see every detail on the front end, it will make it easier for them to track records of their purchases and cancellation details. It would make them happier and lessen the workload on the customer support team.
Customise The Cancellation Duration 
You can easily customise the time duration for cancelling the order. For example:- we offer 24 hours as the default cancellation duration. You can change this duration conveniently to 48 hours to Custom Duration (where you can change the duration for cancellation accordingly).
This feature will keep a check on spam orders and cancellations. Also, it will reduce the chances of unnecessary order cancellations. It will help you cut down on the time you spend providing customer support and improve your customer experience.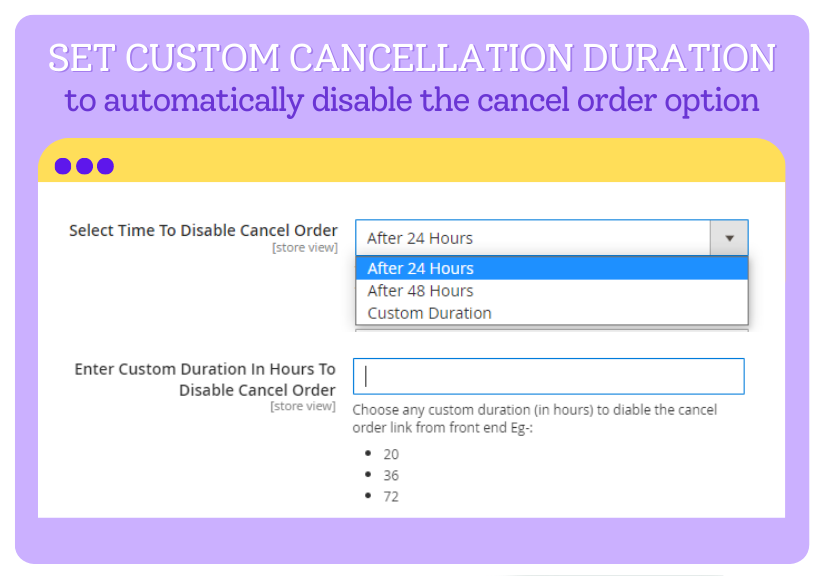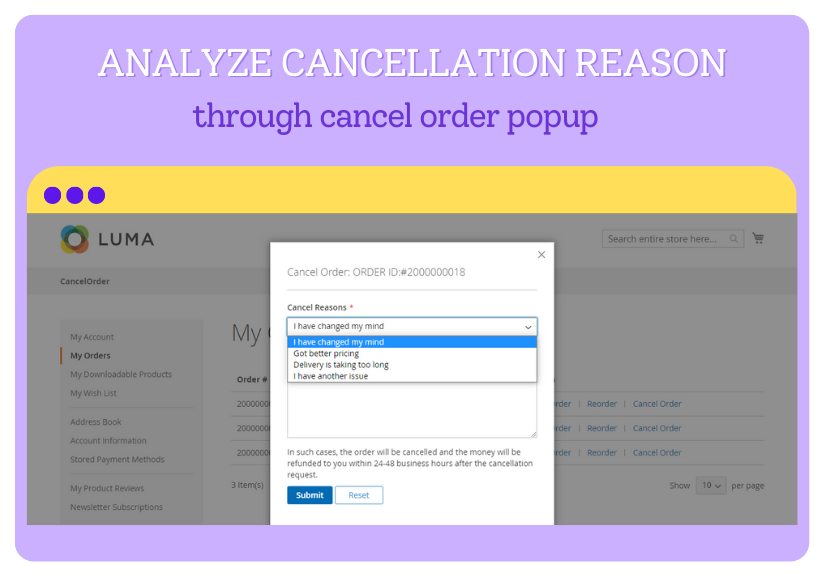 Cancel Order Comments
Our extension lets customers specify cancellation reasons using user friendly cancellation pop up. Enabling this feature helps you identify the reasons behind the order cancellation so that you can improve the services or the quality of your products for the next time.
The major cancellation reasons available with us are: I have changed my mind, Got better pricing, Delivery is taking too long, and I have another issue. You can also determine the other issues by providing your customers with a provision to write the reason in the text box.
Limit Cancellation By Customer Groups
This extension enables you to improve your sales strategy by extending the default platform's functionality. You can limit the order cancellation by customer groups & statuses. There are three options for the customer groups viz—General, Retailer, and wholesaler. 
Other than this, you will also get three choices for Allowed Order Statuses -  Processing, Pending, and Suspected Fraud. This feature will help you identify the number of suspected frauds to avoid the wastage of resources.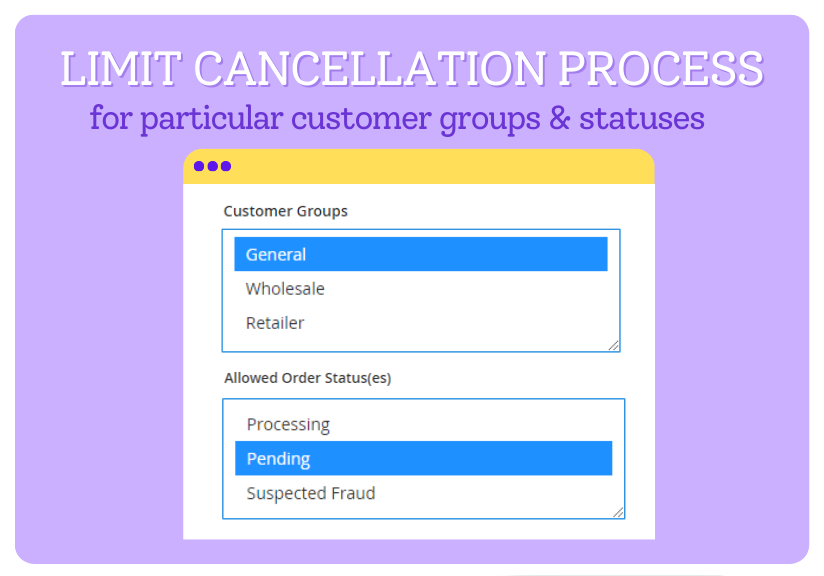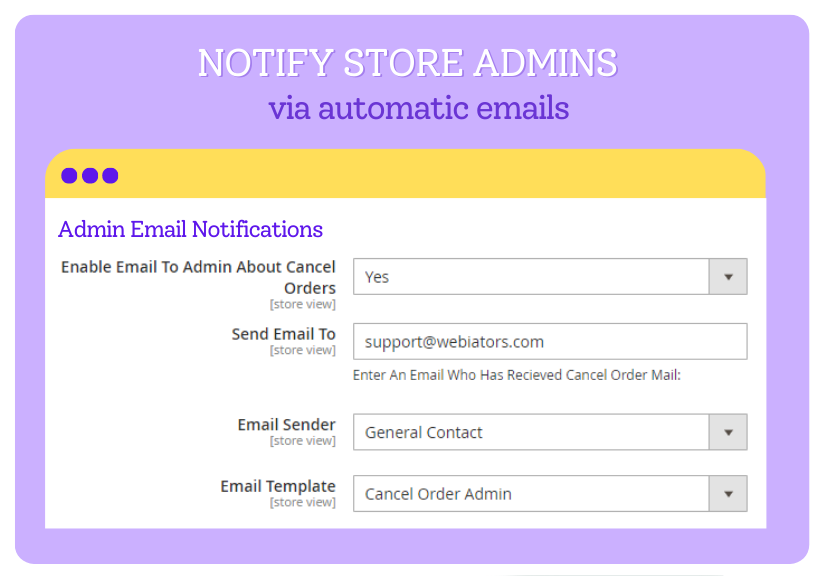 Notify Admins Through Emails
Once the user cancels an order, the Cancel Order Extension sends a notification email to the store admin. To get the notification of order cancellation, you have to enable the feature from the backend. Also, you need to provide a mail id at which you want to receive that mail. 
This feature will notify the admin that an order has been cancelled. The admin does not need to confirm to cancel the order. There is a completely automatic procedure without external support to reduce the time and effort involved in order cancellation.
Undo The Cancelled Order Seamlessly
One of the greatest reasons to choose Webiator's Cancel Order Extension is its adaptability to undo the cancel order. The user can uncancel the cancelled orders by sending an email to the support team. The store admin then uncancel the cancelled order from the backend.
This feature is only useful in the case of the order being cancelled accidentally by the customer. It increases the customer's trust in the company, and he will enjoy this seamless service and can revive the uncancelled order without difficulty.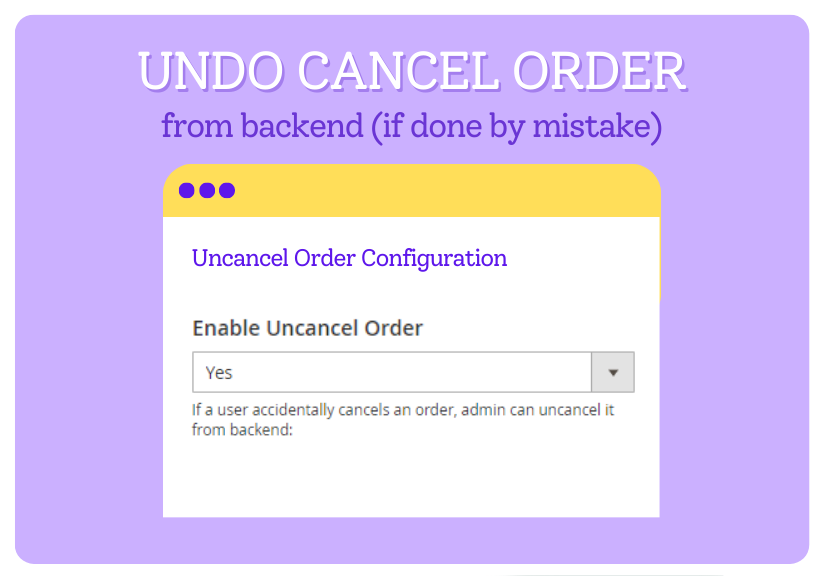 How Do Magento 2 Customers Cancel Orders By Themselves?
Install and enable the Cancel Order extension

Go to Stores > Configuration > Webiators > Cancel Order

Specify which customer groups can perform this action from the Selected Group(s) field

Choose for what statuses cancellation is available from the Allowed Order Status(es) field

Save the changes so customers can cancel Magento 2 orders on the front end.
Can I cancel the pending orders using Cancel Order Magento 2 Extension?
Yes, the customer can cancel the pending orders using this extension.
How could I customise the time limit for order cancellation?
In the configuration setup, you can choose "Select Time To Disable Cancel Order" and choose the "Custom Duration" option from the dropdown and then in the tab given below, you can choose any of the default times (in hrs) or can customise it as per your choice.
What Is Magento?
Magento is one of the best online e-commerce platforms built on open source technology to launch your online store. It provides online merchants with a flexible shopping cart system, as well as control over the look, content, and functionality of their online store. Magento also offers effective marketing, high-performance SEO and store management tools.
Why Choose Magento Platform?
Magento is highly scalable because it can support all kinds of businesses from very small to giant enterprises. It is the big reason to choose the Magento platform.
What Does a Magento Developer Do?
Magento developers Play an Important Role in improving, building, and supporting the Magento eCommerce store. Magento developers can be divided into two main categories first is Front end developer who determines the structure and design of web pages for all devices. And Second is the backend developer who is responsible for server-side web application logic and integration of the work front-end web developers do.
Will I get free support and updates?
Yes, once you buy any extension(s) by Webiators, you'll get free lifetime updates for the product(s). Each purchased extension includes 3 months of free support by default.
Can I request a free trial?
Webiators doesn't provide any trials of Magento extensions. But we have three months of free support and a 60-day money-back guarantee. There's one exception: Webiators extensions are provided for testing or demo purposes to our official Platinum Partners as a part of the "access to Webiators extensions for testing purposes with Composer" benefit. Instead of a free trial, most of our Magento extensions have demos where you can see how our modules work. If you buy an extension and it doesn't suit you in any way, you can request a refund with no risks on your side. Also, we'll be happy to help you with any custom development for your business needs.
How can I receive a discount?
According to the rules of Webiators's Reward Program, you get $15 back to your store credit per every $100 spent. You can spend it to buy other extensions from our catalog, order installation service or extend support. These Points are valid for 60 days from the purchase date. You can check your balance in your personal account in the Rewards & Credit tab. One more option for you is to subscribe to our newsletter to receive news about all special promotions we can provide you with.
We found other products you might like!