Improve Customer Satisfaction & Order Workflow with Webiators Order Tracking Extension For M2
Challenges:
After the order is placed your customers have to wait for their order. Customers hope to receive their orders quickly but do not know how much time their orders will take and at which time they will receive them. Sometimes, it will create anxiety in your customers resulting in poor performance of the after-sales services. Therefore, providing an order tracking facility is undoubtedly an e-commerce best practice. For this reason, Webiators Technologies has come up with a solution that could simplify the order management process and provide your customers with real-time updates on the status of their orders.
Solution: 
Magento 2 Order Tracking Extension by Webiators Technologies provides order-tracking functionality to your customers which will help you to get your order's complete details and order status with tracking information. This Magento 2 order tracking functionality by Webiators solves the waiting problem of your customers and offers an easy process to know about their order status. This extension offers a range of features designed to make order management more efficient and user-friendly for both the store admin and customers. Guest customers can also easily track their orders without login while staying on the same page. 
Benefits Of Choosing Magento 2 Order Tracking Extension By Webiators Technologies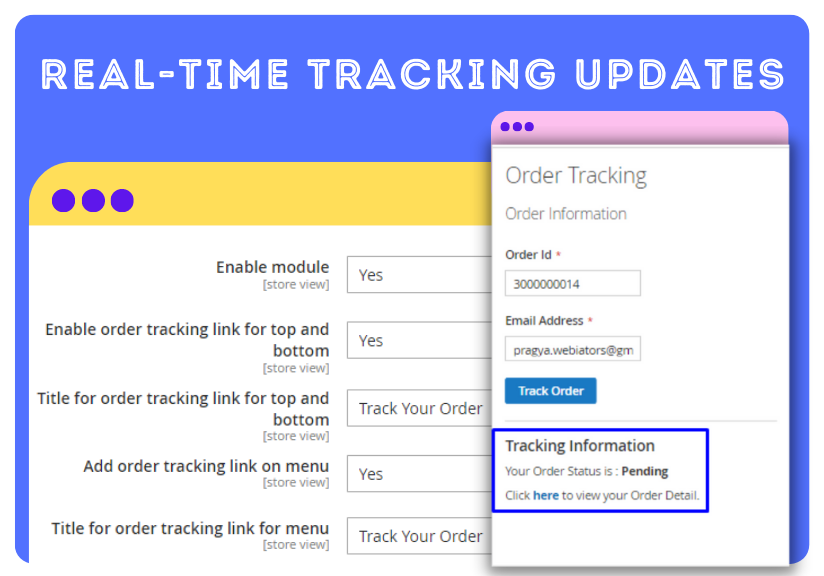 Real-time tracking updates
Running an e-commerce store is not easy. As an online store owner, you must understand the importance of providing your customers with a seamless shopping experience. The Magento 2 order tracking extension offers real-time updates to customers about the status of their orders. 
This means that customers can track the movement of their packages and receive updates as they are shipped, delivered, or delayed. The shipping tracker for M2 gets activated as soon as the store admin generates the invoice and shipment of the ordered product.
Notify customers about order updates and tracking
Automatically sending emails to users for every update in the order status on Magento 2 can help build customer trust and encourage repeat purchases. This process simplifies order tracking while keeping customers informed and engaged.
This extension allows businesses to keep customers updated throughout the order fulfillment process. By keeping customers informed about the progress of their orders, businesses can increase transparency, trust, and confidence in their brand.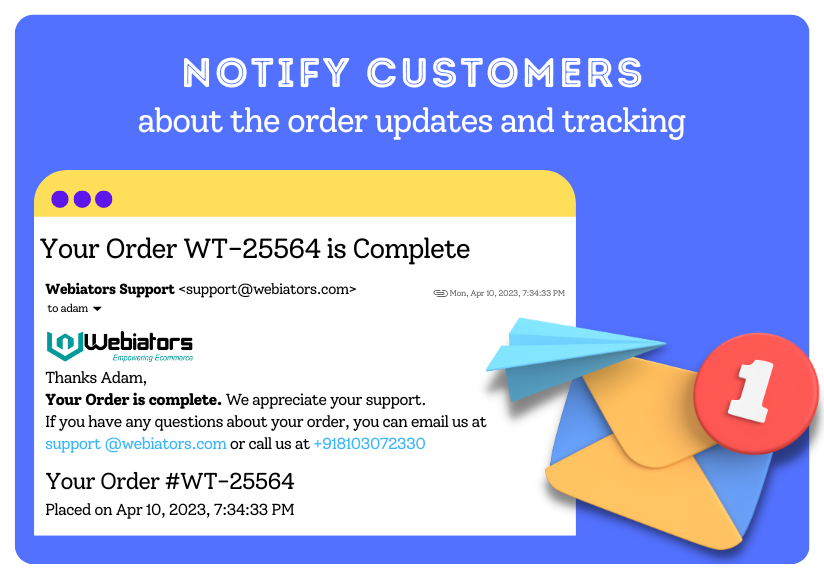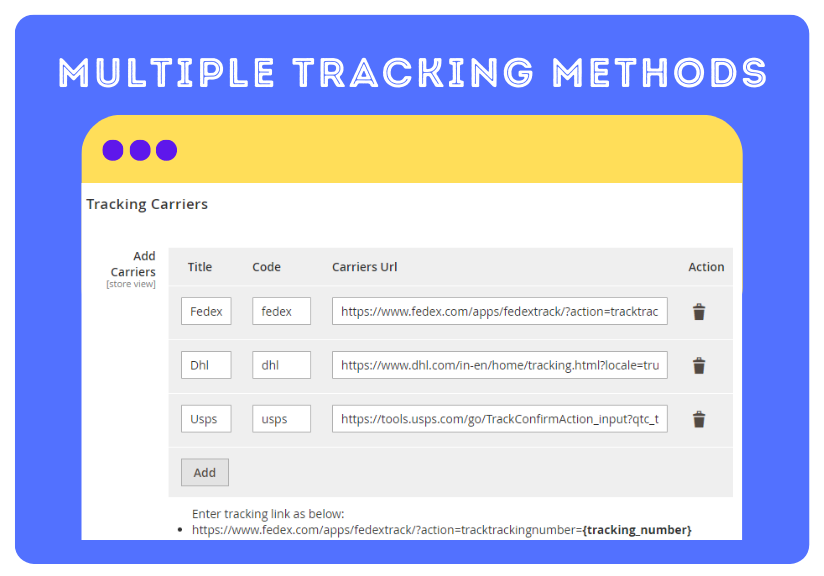 Multiple tracking methods
The "Track Your Order" link is displayed in the top link and top menu section. Add your order ID and registered email ID in the Order Tracking section and click the "Track Order" button to get the order and shipment tracking information with the tracking number and shipping method. 
The Magento 2 order tracking extension supports multiple tracking methods, including tracking by an order number or tracking ID. This flexibility ensures that customers can easily track their orders using the method that is most convenient for them.
Enhancing consumer experience
Customers will have a better overall shopping experience with this order tracking extension of Magento 2. Your consumers can receive a tracking ID that you can send to them. This not only satisfies your customers' requirements but also provides them with an improved experience. 
Before these kinds of modules, you had to manually handle the order tracking requests from each of your clients, which was a task that required a significant amount of time. The Magento 2 order tracking functionality saves valuable time for both customers and admin.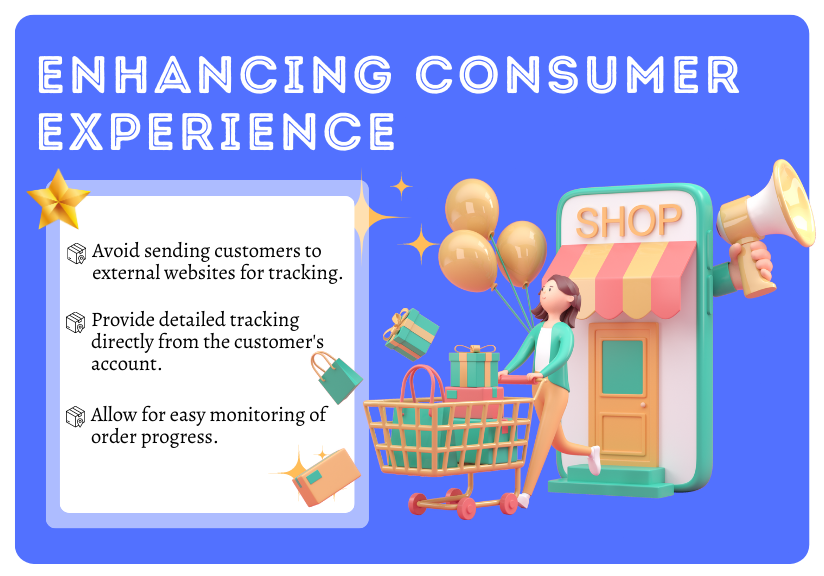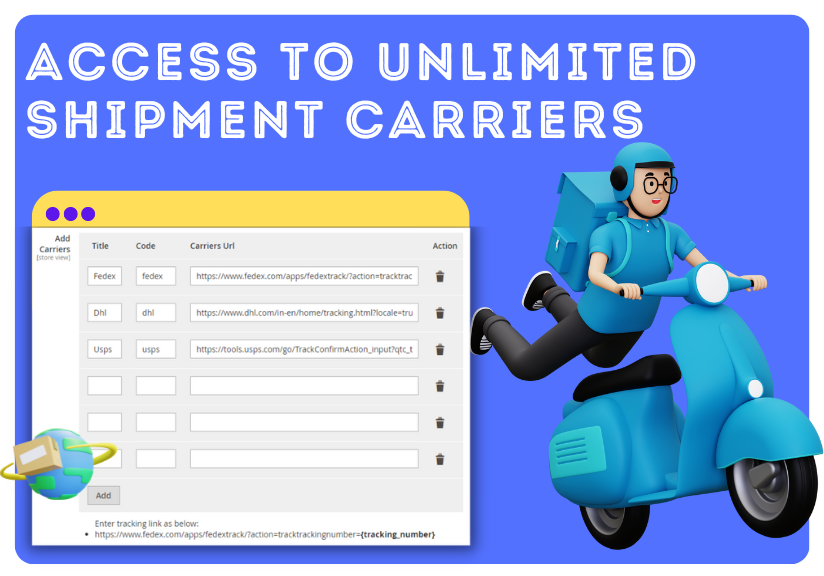 Access to UNLIMITED shipment carriers

Our extension can track orders shipped through FedEx, UPS, DHL, USPS and all the other carriers. Our extension supports multiple shipment carriers and can handle all these tracking methods and requirements. It allows the store owner to easily input tracking information for each carrier.
It also gives customers accurate tracking updates for their orders, regardless of the carrier used. Our Magento 2 order tracking extension, with support for multiple shipment carriers, is valuable for online stores that want to provide customers with a seamless delivery experience.
Why Choose Webiators' Magento 2 Order Tracking Extension?
A dedicated team of professionals. 

Easily manage order workflow. 

DHL, UPS, USPS, and all the major shipping carriers are supported

Compatibility with technologies supported by Magento (Elastic, Page Builder, Inventory Management) 
More Information

| | |
| --- | --- |
| Graphql_compatibilty | No |
Version 1.0.1
25 April 2023
Compatible with Magento 2.4.6 and php 8.1 & 8.2
Compatible With Graphql
Some Bug Fixes
What is the Order Tracking for Magento 2 extension?
The Order Tracking for Magento 2 extension is a tool that allows customers to easily track the status of their orders directly on your Magento 2 store.
How does the Order Tracking extension work?
The extension provides a dedicated order tracking page where customers can enter their order details, such as order number and email address. Upon submission, the extension retrieves the latest tracking information from the shipping carriers and displays it to the customer.
Can customers track their orders without creating an account?
Yes, the Order Tracking extension allows customers to track their orders without creating an account. Customers can simply enter their order details on the tracking page to retrieve the status of their orders.
How does Magento track shipping?
Magento track shipping work with various shipping tracker like UPS, USPS, Federal express, DHL, Magento shipping based on tracking id.